Whitfield-Murray Historical Society
Hours: Monday through Friday
whitfieldmurrayhs@gmail.com
---
Our headquarters is open Monday-Friday, 10:00-4:00.
You may drop off rummage for our two annual sales during business hours. If you need other help, please email us at whitfieldmurrayhs@gmail.com &/or call 706-278-0217.
---
Headquarters Closed for Thanksgiving
Thursday and Friday, November 23-24
Rachel's Star Open House
December 1, 2023
Hamilton House Open House
3 to 5 p.m.
Mt. Rachel Baptist Church, Adult Choir
will sing Christmas Carols at the Crown Gardens & Archives at dusk for the star lighting.
Crown Gardens & Archives
5 p.m. to dusk for the lighting of the star
Polar Express & Santa Claus
Saturday, December 2
Chatsworth Depot
Noon to 4 p.m.
Wright Hotel will also be open
Christmas Candlelight Tours
Chief Vann House
Friday and Saturday, December 8 & 9
5 p.m. to 9 p.m.
Headquarters Closed
Christmas Holiday
December 25 - 29
and
New Year's Day
Monday, January 1, 2024
---
"RACHEL'S STAR" EVENT AT HAMILTON HOUSE
& ARCHIVES ON FRI., DEC. 1
Watch the lighting of the Christmas Star at Crown Gardens &
Archives on Fri., Dec. 1. Start your visit at the 1840 Hamilton House, 701
Chattanooga Ave., & learn about Rachel Hamilton, original resident of the
house & the woman for whom Mount Rachel is named. Then walk down
the sidewalk to the archives & enjoy Christmas caroling led by the Mount
Rachel Baptist Church choir.

In partnership with Dalton Utilities' lighting of the Christmas Star on
Mount Rachel, the Whitfield-Murray Historical Society hosts this event
annually. The house will be open for tours beginning at 3:00 p.m. Dalton
Utilities will light the star around 5:20 just before sundown.
The event is free, & the public is invited. Donations are welcome to
continue the preservation of Hamilton House, the oldest house in Dalton.
The Dalton First Presbyterian Church choir led Christmas carols at the 2022 Rachel's
Star event.
This year, the Mount Rachel Baptist Church choir will sing.
2023 Polar Express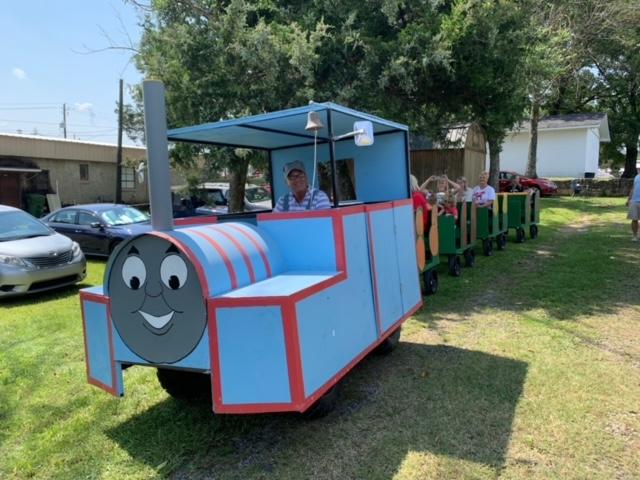 Big Blue Train Ride
Polar Express at the Chatsworth Depot
Features Decorated Wright Hotel
The Whitfield-Murray Historical Society is proud to announce the annual Polar Express is returning to the Chatsworth Depot on Saturday, December 2nd from noon until 4 p.m. Local retired educator C.L. Dunn will present readings of the book, THE POLAR EXPRESS, inside the depot on each half hour.
The Chatsworth Train Depot will be elaborately decorated for the Christmas holiday and will include a model Christmas train running in the freight room of the building. Local train enthusiast Ted Yarbrough will provide operating trains.
Refreshments will be served at the depot by Friends of the Chatsworth-Murray County Library. The event is free for children 10 and under (must be accompanied by a paid adult), but a $3 donation for those ages 11 and up is requested for Depot admission.
The Depot's Big Blue Train will offer rides to visit Santa at the Wright Hotel located around the block from the Depot. The decorated Hotel will also be open for tours. There is no charge for the train rides or admission to the Hotel, but donations are always appreciated.
The event is sponsored by Friends of the Chatsworth-Murray County Library, the Wright Hotel Committee, and the Chatsworth Depot Committee.
---
Dorothy "Dot" McCrory's second book,

"View from the Gaming Table,"
is now available.
Copies are $35.
A copy can be mailed for $45.
Book sales benefit the Lesche Club scholarship fund.
---
The Emery Center, Inc.
110 West Emery Street
Dalton, GA 30720
Tours are available on Wednesday's
Please call the Emery Center to schedule a tour at 706-277-7633
The Emery Center is located at the corner of Emery St. and S. Pentz St.
---
The Whitfield Murray Historical Society has an exciting year coming up with many plans. They also recently elected new officers.
Pictured from left to right are:
Marsha Whitener, 2nd Vice President; Susan Longley, 1st Vice President; Dale Lowman, President; Mandy White, Secretary; Lisa Stafford, Treasurer; Patty Spanjer, Public Relations
---




MY LIFE AND TRAVELS

written by former slave

LEVI BRANHAM

has been reprinted.

I WAS born in 1852 in Murray county, Georgia, and lived there until 1863. Then I refugeed from here (Murray county) to South Georgia, Terrell county of which Dawson was the county seat.

My first owner that I am able to recollect was Dr. Black, who later sold me to Mr. Jim Edmondson. Dr. Black not only sold me but he sold all of his negroes to Mr. Edmondson, declaring that he (Mr. Edmondson) would not separate the Negroes.

A white boy, Sam Carter, brother of Sooth Carter, was my first white playmate that I am able to remember. We would tie pine tops together to make a seine to catch fish.

So begins the story of an incredible man who made a huge difference in the Northwest corner of Georgia. He was a slave at the Chief Vann House in Murray County. Because he was taught to read and write by his Mistress while a slave, he recognized the advantage of an education. He taught schools following the Civil War. He traveled around the area, helping found educational opportunities for freed slaves and their families/ He was also a Sunday school teacher. Mr. Branham, known locally as "Uncle Boisey" published My Life and Travels in 1929, when he was seventy-seven years old.

The book has just been reprinted and will be available for $8 at the Crown Gardens & Archives, 715 Chattanooga Ave, Dalton, GA 30720.

(706) 278-0217

---



We have an assortment of years of high school yearbooks from Dalton High and Southeast High Schools. The yearbooks are used and are sold as is.
Stop by the Crown Gardens and Archives at 715 Chattanooga Avenue, Dalton 30720 to purchase your book.
The hours are Monday through Friday from 10 a.m. to 4 p.m.
---
The Whitfield-Murray Historical Society recently received a $500 Keep Dalton/Whitfield Beautiful Grant for the 1840 Hamilton House. Our focus was to add fresh paint to the doors and windows. Along the way, we also painted porch furniture and added new plantings. Thanks,KD/WB, for encouraging us to spiff up!
The window paint was chipping, and we needed a facelift! In addition to the fresh paint, we decided to change the paint color from brick red to black for the doors and porch.
The new paint pops, and the side porch bench and floor are more welcoming.
---
---
Notice:
All Whitfield-Murray Historical Society properties are owned by the historical society, so are therefore private property.
If you would like to use the grounds for photographs, etc., please obtain permission by calling 706-278-0217, Monday through Friday.
Please note that if an event is occurring on the property, no one else is allowed to be on the property.
Professional photographers must schedule events for all outside & inside areas at all WMHS properties. The fee for the rental is $100 per session per property.
---
---
Rent a Whitfield Murray Historical Society Property for your next event.
As you plan upcoming family or organization events, consider using WMHS property. Contacts for information &/or reservations are:
Old Spring Place Methodist Church
Call Tim at 706-695-2740
Crown Garden and Archives
Call Tina at 706-278-0217
Hamilton House
Call Tina at 706-278-0217
Blunt House
Call Joanne at 706-271-8702
Huff House
Call Virgelia at 706-226-6774
Chatsworth Depot
Call Ted at 706-581-5482
Wright Hotel
Call Ralph at 706-695-9808 or 706-260-1320
---
Historical Dalton City Directories are online
Researchers may now access Dalton city directories from 1940-1963 online, thanks to Georgia Public Library Service. They joined previously digitized Georgia city directories from Albany, Athens, Atlanta, Columbus, Gainsville, and Macon. To locate a city directory, go to the following link.
---
---
MURRAY COUNTY DEEDS ARE NOW ONLINE
All Murray County deeds--back to 1833--are now accessible online. This includes the earliest deeds for Whitfield County, too, since we were one county through 1851. Use this link to access the deeds:
https://kofilequicklinks.com/MurrayGA/
---
Dorothy "Dot" McCrory's first book,
"Too Much Cider in the Applesauce"
Is also available.
Copies are $25.
A copy can be mailed for $35.
Book sales benefit the Lesche Club scholarship fund.
---


Hours at Crown Garden and Archives
To better serve our community
we are open M-F 10am - 4pm.
Please call to schedule an appointment on weekends and evenings for research and events!
For research, please call to verify that we have the family files.
To make an

appointment,

please call during our business hours!
---
List of family files under Genealogy.
Copyright ©2020 Whitfield-Murray Historical Society